Machine building
The yard manufactures a wide range of marine power engineering and machine building items for its own ships under construction and for other customers, heat exchangers for nuclear power plants, steel and non-ferrous castings.
The main machine building production lines are as follows:
Marine machine building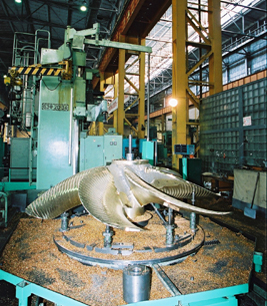 The yard manufactures a wide range of marine power engineering and machine building items for its own ships under construction and for other customers:
fixed and controllable pitch propellers;
propeller blades and components (hubs) out of non-ferrous and stainless alloys;
marine shaftings, stern tubes, rudders;
marine steam valves;
bilge and deck arrangements
Propellers
The yard manufactures marine propellers (from patterns and casting to machining and balancing) from bronze and brass (diameter up to 8,000mm, weight up to 70,000kg) as well as from carbon and stainless steel (diameter up to 2,500mm, weight up to 2,250kg):
fixed pitch propellers;
blades and components of controllable pitch propellers
They are employed for large size tankers, containerships, passenger vessels, naval ships, speedboats, including patrol ships, etc.
Shaftings and stern tubes
The yard manufactures propeller, thrust and intermediate shafts from carbon, alloyed, low magnetic and stainless steels and titanium alloys. The deployment of dedicated roll lathes allows to machine solid-forged shafts up to 20,000mm long (split shafts up to 33,000mm), with the diameter up to 1,000mm and the weight up to 70,000kg.
The yard also manufactures stern tubes from carbon, stainless and low magnetic steels (diameter up to 1,100mm, length up to 11,000mm weighing up to 31,000kg). All products comply with relevant environmental protection, vibration- and shockproof requirements.
Boiler equipment
Boiler equipment
For more than 100 years the yard has been manufacturing marine boilers for naval and merchant ships. These are the main types of marine boilers:
Main boilers type КВН 98/64, КВГ 2, КВГ 3;
Economizers type КУП with a steam capacity from 0.7t/h to 26.25t/h and heating surface from 20m2 to 3100m2;
Auxiliary boilers types КАВ and КВВА with a steam capacity from 1.6t/h to 16t/h.
Marine boilers
Modular marine boilers are distinguished by their small size and high efficiency. The yard also manufactures main steam boilers, waste-heat recovery systems, separators and land-based boilers. The equipment can be used for generation of superheated and saturated steam, hot water for power plants and operating requirements, to increase the efficiency of gas turbine and diesel power plants and to recover the waste heat.
In 2013, the yard boilermakers together with engineers from the Special Boiler Design Bureau JSC (SKBK) repaired the boilers on INS Vikramaditya allowing the ship to attain the speed of 29.3kn which confirmed and even exceeded the design speed.
The boilers are successfully employed at Synthetic Rubber Plant (Nizhnekamsk), Mazeikiai Oil Refinery (Mazeikiai, Lithuania), Novokuybyshevsk Spirits Factory (Novokuybyshevsk), VladimirEnergo (Vladimir), etc.
Heat exchangers, tanks and pressure vessels
Heat exchangers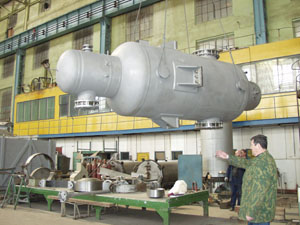 Baltiysky Zavod manufactures heat exchangers from carbon and stainless steel, titanium alloys, for heating, cooling, condensation and evaporation of liquids, gases and liquid-gas mixtures. The heat exchangers are used in chemical, petrochemical, pulp and paper, food industries, as well as in nuclear power engineering and shipbuilding.
The reference list includes Leningrad NPP, Kola NPP, Kudankulam NPP (India), Tianwan NPP (China), Sigmagaz JSC, Kazannefteorgsintez JSC, Bashkirzoloto JSC, Neftehim JSC, etc.
Baltiysky Zavod is fully licensed for manufacturing of any types of vessels and tanks under Gosgortechnadzor and Atomnadzor of the Russian Federation, pipings and heat exchangers for nuclear power plants.
Tanks and vessels
The main products are as follows:
Horizontal and vertical vessels and tanks with flat, conical, elliptic bottoms for transportation and storage of liquid and bulk food cargoes, propylene glycol, ammonia, oil products, etc.
Tanks with mechanical mixing and heat exchanging equipment (reactors, boilers, etc.) intended for operation with liquids with a dynamic viscosity of 5Pa or less and density to 2000 kg/m3. Jacket or coil design with tap or circulating water, condensate, saturated water steam or high temperature organic heating medium with a temperature from minus 30°С to plus 250°С. Reactors with mixing arrangements and reduction gears are commonly used for liquid industrial water disposal.
Towers with internal arrangements for the chemical, pulp and paper, as well as food industries.
Thickening equipment (settling tanks, clarification tanks, hydrocyclones) for gravity or centrifugal separation of liquid heterogeneous substances – suspensions and emulsions, as well as for thickening, clarification, flushing of solids and classification of suspensions.
Tank containers for transportation of chemically active substances by any means of transport
Receivers and air collectors from carbon, low-alloyed and stainless steels
Steam separators for ships and land-based power plants.
All equipment is subjected to several inspection stages. The following inspection methods are used:
ultrasound (including automatic ultrasound test of pipes and brazing threaded joints),
x-ray,
periscopic,
spectral,
metallographic,
physicochemical,
mechanical.
Dedicated stands allow carrying out strength and tightness tests.

Metallurgical production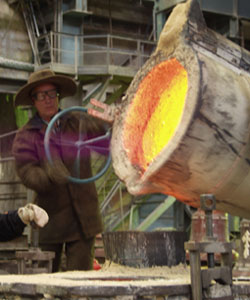 The existing facilities make it possible to manufacture the castings for any general purpose equipment as well as valve castings. The shop is equipped with a modern induction furnace Inductotherm (the USA) that ensures the high quality of castings.
The yard foundry is capable to produce castings from the following materials:
steels and cast iron;
bronzes and brasses.
The following casting procedures are used:
Non-ferrous casting shop
Production feasibility as follows:
Mould sand casting, including hand molding (castings of fixed pitch and controllable pitch propellers, blades and components, pipe accessories, general purpose castings)
Centrifugal casting (Castings of propeller shaft linings, bushings, rings, segments, etc.)
Cooled moulds casting (ingots)
Ferrous and cast iron casting shop
The ferrous products comprise as follows:
Castings of marine and industrial items up to 2t out of carbon, alloyed and corrosion-resistant (acid-resistant) steels (propellers, blades, steering gear parts, stern frames, bossings, stems, impellers, etc.).
Grey cast iron castings up to 2.5t. The weight of anchor assembly castings can reach 4.5t.
Casting of bells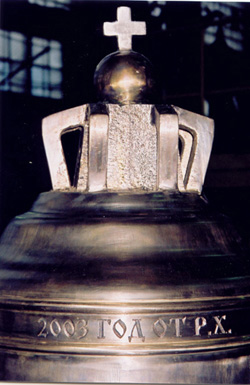 Baltiysky Zavod manufactures church bells weighing from 5 kg to 70 tons.
Any order is developed on the basis of a pattern, prototype of which is the well-known Tsar Bell – the jewel in the crown of the Moscow Kremlin. The bells that have been cast at the shipyard are crowned with an orb and a cross on it. The tones of the bells are determined by Lord Rayleigh's formula.
Every bell manufactured by Baltiysky Zavod has a passport and a quality certificate.
In 2003, the Tsar Bell – the largest functioning bell ever made in Russia – was cast for the Svyato Troitskaya Sergieva Lavra.
In 2011, the bell Soborniy was cast at the shipyard for the Eparchy of Nizhniy Novgorod. The bell weighs 60 tons, its diameter is 4 meters. This bell was delivered to the customer in March 2012 and turned out to be the third largest in Russia.
Over the latest 10 years, the foundrymen of Baltiysky Zavod have already cast dozens of bells: Tsar Bell for the Svyato Troitskaya Sergieva Lavra – 72 tons; 18-ton bell for the Nikolo-Ugreshsky Stauropegic Monastery; bells for the Kazan Cathedral in Saint Petersburg, Church of the Seraphim of Sarov in settlement Pesochnoye, Church of the Archangel Michael in Tver region, Church of St. Andrew the Apostle in Vologda, Church of the Holy Preeminent Apostles Peter and Paul in Lyuban, The Church of St. Nicolas the Wonderworker on Predportovaya station and many other churches.