Leadership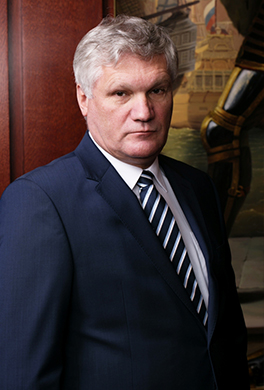 ALEXEY V. KADILOV
General Director
Mr. Kadilov graduated from Leningrad Mechanical Institute with a degree in Mechanical Engineering, Range Operation Facilities. From 1976 till 1994 he had been working on Baltic Shipyard where he had risen through the ranks, starting as Ships Construction Coordinator and ending up as Chief Production Manager. He took part in building and delivering of the nuclear missile cruisers. In 1985, Mr. Kadilov was awarded with the order of the Badge of Honour by the Decree of Supreme Council of the USSR. In the course of 10 years starting from 1994, he had run St. Petersburg offices of ZAO "Belukha" and "Rostekhimport". Used to be the head of the Rybisnk shipyard; held the position of Vice President of "Volgotanker" managing company.
From 2004 to 2007, Mr. Kadilov had been the First Deputy General Director of the Almaz Marine Yard, where he was involved in building of a series of crew boats (project 21960) for the Navy, as well as special purpose motor boat "Hosta" and high-speed motor boat (project A-125).
Starting from December 2007, Alexey Kadilov had worked on Sredne-Nevsky shipyard as a Chief Engineer at first, and then had been promoted to the First Deputy General Director. He had been involved in the process of shipyard retrofitting and technical upgrading. Due to the re-equipment, there has been a reduction of labour intensity required for building of ships from composite materials, which has increased the shipyard's competitive ability in the market of minesweepers and high-speed patrol boats.
In November 2013, Alexey Kadilov was appointed to the post of General Director of Baltic Shipyard Ltd.
By the decree of the Russian Minister of Defense, Alexey Kadilov was awarded with the medal "For Strengthening of the Military Cooperation"
Has the title of "Honorary shipbuilder of the Russian Federation", the Order "For Merit in Maritime Activities" 2nd degree.
In 2017 he was awarded the title of Honorary Shipbuilder, in 2018 - Honorary Mechanical Engineer.