Production capacity
Shipbuilding facilities
The shipbuilding facilities are arranged in five main subdivisions corresponding to ship construction stages:
Steel cutting shop
Steel cutting and fabrication of parts are carried out in the modern steel cutting shop. Its designed capacity is up to 60,000t of steel per year. With the first construction stage completed the shop is presently able to process up to 30,000t of steel per year. The shop has a covered steelyard and state-of-the-art equipment as follows:
Automatic shop transport system
Shot blast and preservation line (Gutmann, Germany)
Cranes (Famak, Poland and IMG, Germany)
Underwater and dry plasma cutting machines (ESAB and Messer, Germany)
Section assembly shop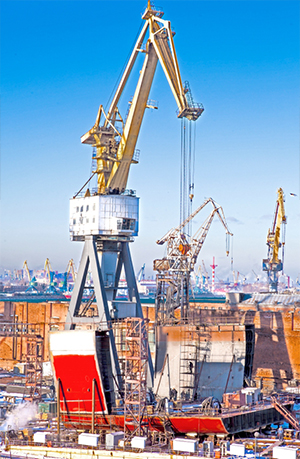 The available cranes allow fabricating sections up to 80t. The shop has 4 bays intended for fabrication of stiffening, flat and volume sections, as well as for assembly and welding of panels, foundations, bottom and side sections, fore- and afterbody sections.
The shop is equipped with the following modern facilities:
Robotized profile cutting line (IMG)
Automated panel line (Pema, Finland)
The welding equipment comprises welding tractors for submerged arc welding and CO2 shielded welding (for fillet welds), semiautomatic equipment for CO2 shielded welding, equipment for argon arc welding (KEMPPI, ESAB, etc.).
The transportation of ready volume sections and large equipment is carried out by two section transporters (150t and 200t).
Hull building shop
The yard has two inclined slipways ("А" and "В") and a covered slipway used for building sophisticated ships.
The 350m long slipway "A" is the biggest in Russia. The slipway "B" is 250m long. The slipways are equipped with cranes which hoisting capacity varies from 75t to 100t (6 cranes per slipway).
The shifting of ship hulls is carried out by 20t launching winches.
The outfitting quay is equipped with three portal cranes 50t each. The deep water quay is abt. 900m long, water depth at the bank is 10m. The shallow part is 350m, water depth at the bank is 5m. A floating Demag crane (350t, 50m hoisting height) is used for installation of superstructures and grand blocks afloat.
Piping shop
Piping shop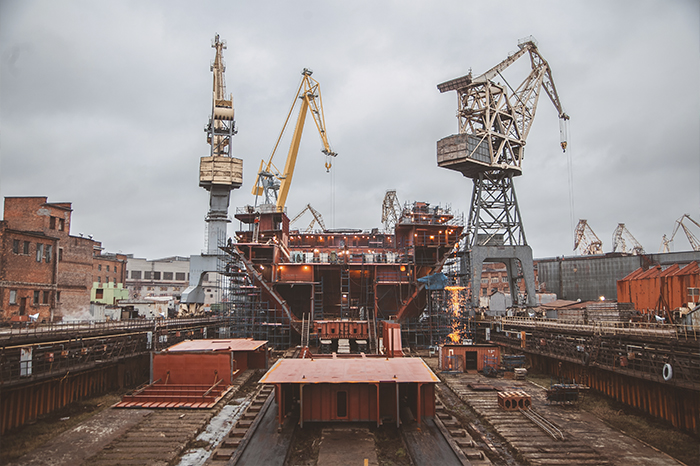 There are several dedicated areas in the shop:
Pipe bending (diameter from 10mm to 377mm)
CO2 shielded semiautomatic pipe welding
Manual argon arc welding
Gas welding and soldering of non-ferrous pipes
Pipe hydraulic test
Pipe priming and painting
Pipe insulation
Installation of sanitary equipment
Mechanical installation shop
The yard carries out installation of main and auxiliary engines, shaftings, rudders, mooring arrangements, electrical equipment, air coolers, air handling units, pipings, installation and adjustment of instruments and some automation systems.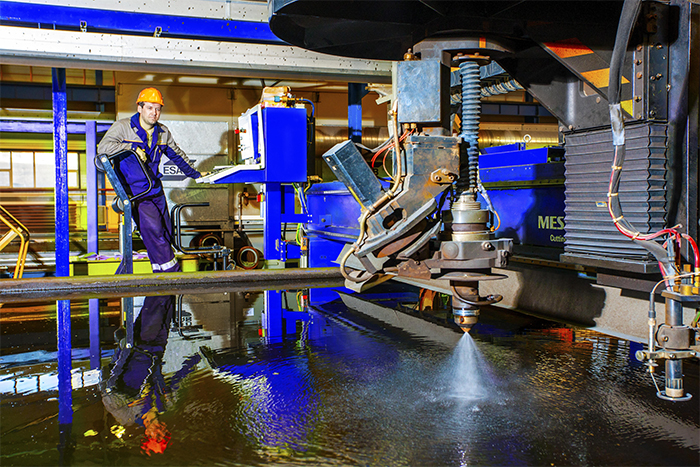 The shop has the following special equipment:
Welding equipment for CO2 shielded semiautomatic, argon arc and electric arc welding;
Rudder trunk milling equipment;
Foundation milling equipment, also for round foundations from 330mm to 4000mm;
Stern tube milling equipment (diameter from 500mm to 1200mm, 12m long);
Oil and hydraulic system flushing equipment;
Hose reinforcement equipment with 8mm wire (hose diameter from 50mm to 300mm);
Fabrication of pipe gaskets.
The covered modular construction area is 75m long, the width between the columns equals 30m. There are two portal cranes of 100/20t and rail tracks (design load is 380t). The height to the crane runways is 22m. The gate dimensions are 18 x 22m.
Outfitting and painting facilities
Outfitting
The yard manufactures ladders and stairs, including accommodation ladders, handrails, guardrails, awnings, floors and platforms, racks, ventilation pipes, electrical brackets and fittings, for ships under construction. All these outfitting items are subsequently installed onboard.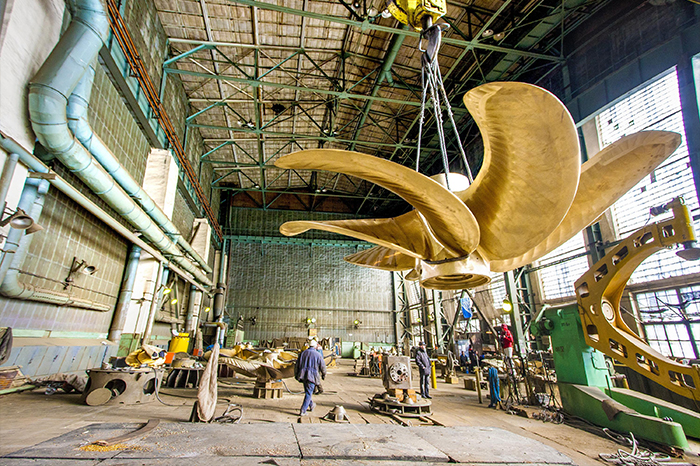 The shop is equipped with the following arrangements:
Guillotine cutters (max thickness 10mm);.
250t crank press for cutting profiles, hydraulic rollers and presses for bending sheet metal parts;
Pipe bending machines;
Lathes, milling and drilling machines, etc.;
Equipment for CO2 shielded semiautomatic welding, argon arc and electric arc welding.
Painting
The painting shop in intended for painting sections, foundations, ventilation ducts, battens and other structures.
An existing painting cell (more than 1000 sqm) can accommodate four large hull sections at once.
The painting cell is equipped with modern airless paint spraying equipment (Graco, USA); shot blasting supply-and-exhaust units and compressors (Kaeser, Germany). The heating and climate control system ensures optimal environment for each job (blasting, painting or drying), in strict compliance with the painting specification. The cell ventilation system ensures efficient air cleaning.
Moreover, the following facilities are available:
Linoleum thermostatic control equipment;.
Mixers for latex cement compounds;
Machines for sawing, facing and mortising of insulation;
Blasting equipment for hull structures.